A heartbroken little girl has written a touching letter to Santa asking him to bring her beloved pet dog home after she was stolen by cruel thieves.
Devastated Isla Kerr, seven, put pen to paper after telling mum Vanessa Meskimmon, 'Santa can do anything', pleading for Boston terrier Dolly to be brought back safely.
The three-year-old dog is blind and requires daily medication, and the family say she will be terrified not knowing where she is.
Isla's handwritten note reads: "Dear Santa, All I want for Christmas is my dog to come back.
"I do not care about presents, all I care about is my dog Dolly to come back.
"I miss her so much and love her.
"Love Isla Kerr xxxx."
Dolly was taken on Wednesday evening when she was left tied up for a matter of minutes outside a shop close to their home in Sowerby Bridge, West Yorks.
Isla and bricklayer dad Darren Kerr, 33, had popped in to buy ice cream but when they returned, she had vanished.
They have since been frantically searching for the family pet and have now put out a desperate appeal as their concerns over her health grow.
Vanessa, 32, said: "We've had Dolly since she was nine weeks old and she and Isla are like best friends, they're inseparable.
"She's so upset that someone has her, and none of us are sleeping"
"It's just such an awful feeling not knowing where she is, when she'll be so desperate to come home.
"She came up with the idea of writing to Santa because as she told me, 'Santa can do anything'. It will break her heart if her dream doesn't come true."
The family has reported the theft to the police, who are investigating the matter.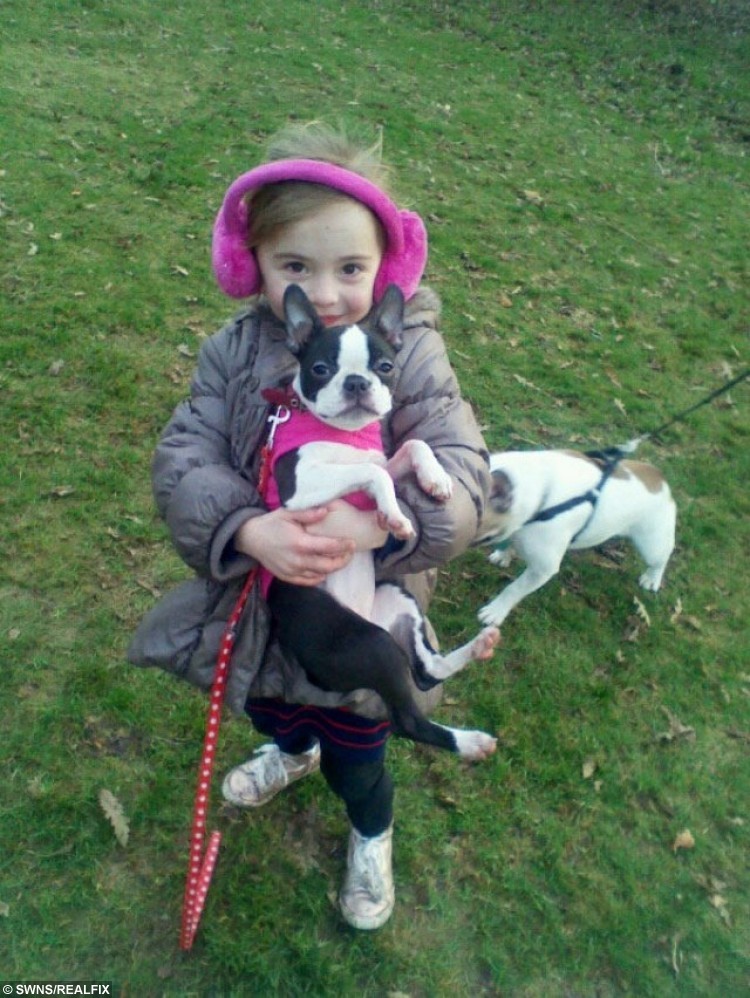 Friends, family and even complete strangers are helping them with the search and local taxi firm Jenny's has even offered to pick Dolly up from whoever has her for free, with no questions asked.
Vanessa, a healthcare assistant who is also mum to Courtney Kerr-Meskimmon, 17, said: "Whoever took her just unclipped her lead and led her away.
"She's a very friendly dog so she would have let someone take her, but when she is somewhere she doesn't know she gets very scared.
"She doesn't like loud noises and she's frightened of being told off.
"She is completely blind and will be so scared.
"We're not interested in who took her, we just want her to be brought back to where she knows she is safe and loved."
Dolly began losing her sight earlier this year, due to an incurable condition, which causes her a lot of pain.
She regularly requires painkillers, which she has now been without for five days, and Vanessa fears how the thieves will have reacted once they discovered she cannot see.
She said: "They will have worked it out fairly quickly, I imagine, but we have no idea why they took her.
"They may have thought they can make money out of her in someway, but they must never have expected her to be blind.
"All we can do is just urge whoever has her to give her back, even if they just leave her somewhere where she will be found.
"Please think about a little girl who wants her dog home for Christmas."