A baby white rhino has struck up an unlikely friendship at a safari park – with a GIRAFFE.
Ekozu, a male southern white rhino calf, was born in March at West Midlands Safari Park – the first to be born there in over a decade.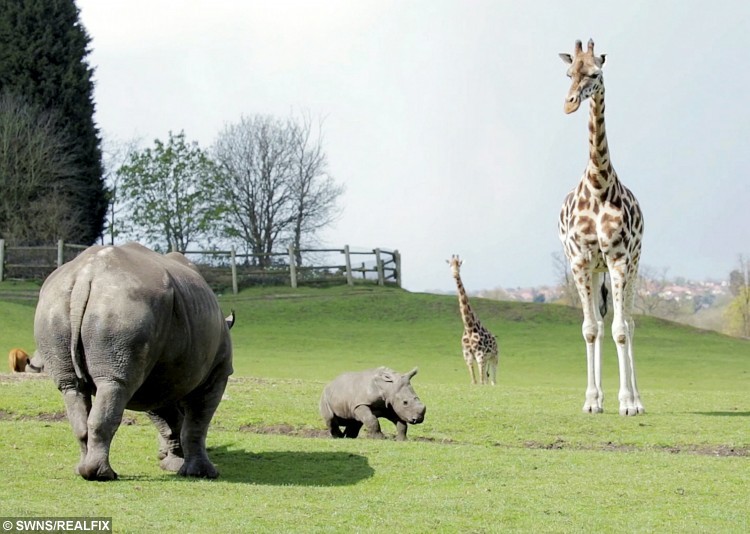 The ten-stone new arrival has spent the first few weeks of his life being introduced to the other animals at the attraction.
But his handlers were stunned when he struck up a close friendship with an adult giraffe.
Heart-warming pictures show the pair touching noses in front of delighted visitors who spotted them during the four-mile drive through the park in Bewdley, Worcs.
Rhino keeper Emma Ashley said: "Ekozu is doing well, keeping mum Ailsa on her toes as he meets all the other species.
"Now the temperatures are increasing, he has been splashing around in the wallow and enjoying playing in the mud.
"He is now well integrated with the other females, Keyah, Mtuba and Trixie and they are getting used to having a youngster disturbing their peace."
Visitor Jan Daniels, 23, from Kidderminster, Worcs., said: "I went to the park with my boyfriend and as we were driving past I saw this baby rhino bobbing around with a giraffe.
"At one stage they both seemed to gently touched heads together. You don't expect rhinos and giraffes to get along but they were inseparable.
"We must have watched them for at least half-an-hour. It was so sweet."
Keepers chose the Namibian name Ekozu, which means white rhino, for their new arrival following his birth on March 25.
He is the first rhino to be born at the park since his father Barney was born in 2005.