A cat left without a nose after a life-saving operation is set to be re-homed – with the vet who carried out the procedure.
Dave the moggy was left with an unusual appearance after the tip of his nose was removed due to a cancerous tumour.
He lived happily with his loving owner after the operation but was taken in by Bath Cats and Dogs Home after they moved into residential care.
After he arrived, staff at the animal shelter tried desperately to find the black and grey cat a new home.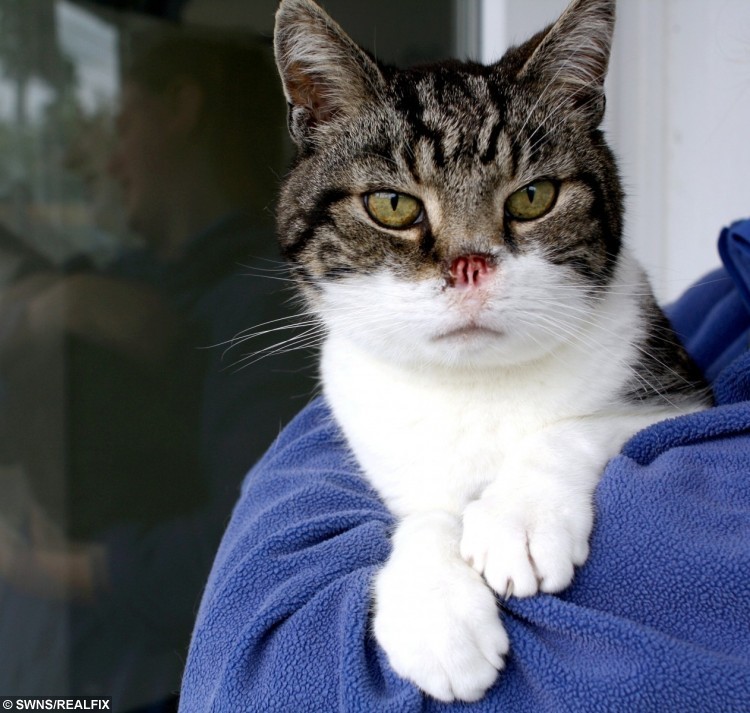 But they said that though visitors to the cattery would stop and notice the 14-year-old animal's nose, none could see past it to adopt him.
They launched a desperate appeal last Thursday to re-home Dave and were flooded with offers from as far afield as India and Denmark.
Among the potential owners was one person who had met Dave before – the vet who carried out his life-saving op.
Dave is currently undergoing treatment for pancreatitis but is set to be re-homed with the vet after recovering.
Bath Cats and Dogs Home said: "We have found someone for Dave. There has been so much interest – it's just gone crazy.
"People from America were even phoning up for him because it's such an unusual case.
"He is a happy, lovely boy. He hasn't been bothered by his missing nose at all.
"The vet who did the surgery didn't realise he had come in here to us – it was due to the appeal that she realised."