An orphaned baby bird is being nursed back to health by her unlikely surrogate 'father' – a boxer dog.
Two-year-old boxer Rusty has taken the tiny chick under his wing, ever since she was brought into his home, and now the lovable dog lets the little bird ride around on his back.
The chick, named 'Birdy', was abandoned when the little thrush fell out of her nest, at Minster on the Isle of Sheppey.
Jurgita Peciulaityte (doub corr) found the little chick and brought her back home, but never imagined she would become adopted by her dog.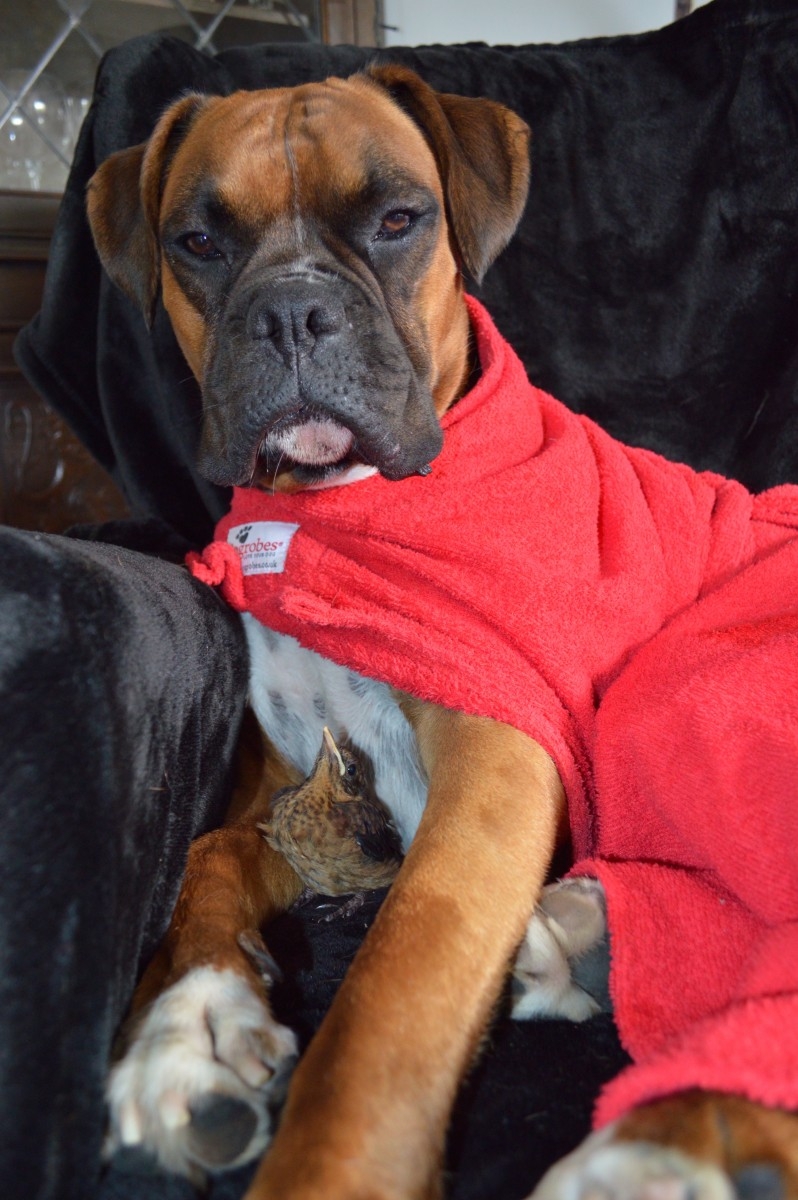 Jurgita, who runs Heart Woodcraft, said: "The pair have become inseparable.
"The chick has taken to hopping on Rusty's back but that infuriates him because he can't see where his new friend is.
"It drives him mad, but they love it."
The relationship between the two has seen a high interest from the social media world.
Jurgita, 34, posted a video of the pair playing on her Facebook page and set up Rusty's very own page Rusty The Gentle Giant.
The Lithuanian, who moved to Britain 15 years ago and has set up home with tree surgeon Leon Butcher, said: "I was in my workshop in the garden when I realised Rusty had found himself a little mate.
"I heard him barking excitedly, like he had found a cat, and discovered he was looking at this little bird which had fallen out of its nest.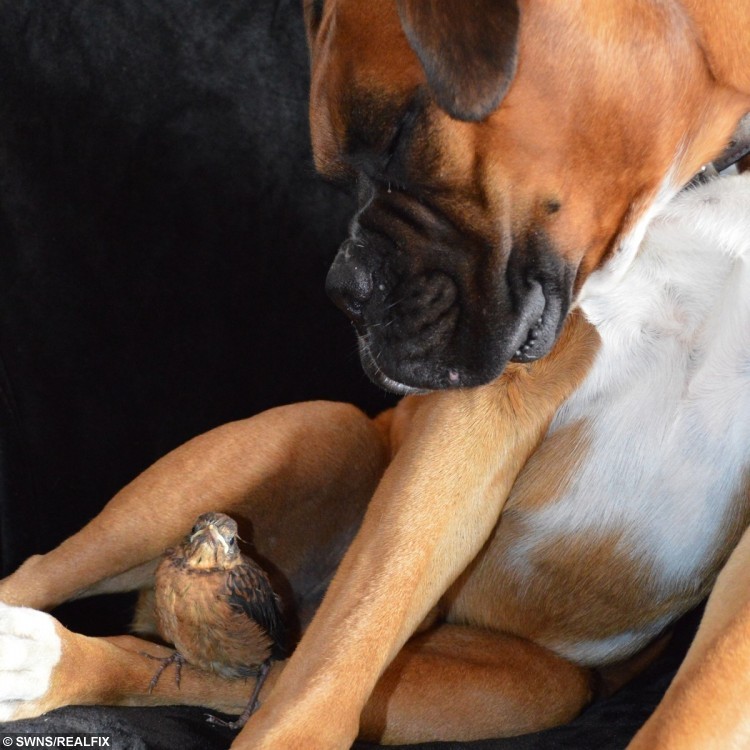 "As soon as I approached, the bird opened its beak so I found some earthworms which it gobbled down.
"When Birdy was learning how to fly Rusty was watching him and suddenly she landed on his back.
"He didn't know where it was so he was wandering in circles trying to find her.
"There aren't many birds around here that would play with him and Birdy is very young but Rusty is very caring and playful.
"We have chickens in our garden as well and he always plays with them too.
"We found Birdy on Wednesday and he hasn't grown all his feathers, so we're not sure but think she's a baby thrush – she might be a blackbird though."
At first Birdy was kept in a shoebox but it now lives in a temporary nest in a potted tree indoors.
Jurgita said: "It was hopping about the house and looked up at the plant so I built a little nest for it.
"When it gets hungry it jumps down.
"She is still too young to fly but it hops onto Rusty's back when he's lying down.
"When he stands up to see the bird he ends up going round and round in circles searching for it. It's hilarious."
The former dental nurse added: "Rusty is very gentle and caring and doing a great job of being a daddy but sadly is no help with digging for worms.
"He will be one sad puppy when the birdie flies the nest.
"The bird is eating us out of house and home.
"We give it meal-worms, boiled eggs and earthworms but you wouldn't believe how difficult it is to find worms in the garden when you need them.
"Leon was going to put the bird back in its nest but all the other birds have flown and there is no sign of its mother."
Watch the video that went viral here: https://www.youtube.com/watch?v=PftGJGPhtxo