An 18-year-old has spoken of her horror eight hour attack – after she was beaten with a metal chain and made to act like a dog.
Victim Summer Gregg was left battered and bruised after she was spat on, beaten and repeatedly slapped in the terrifying attack.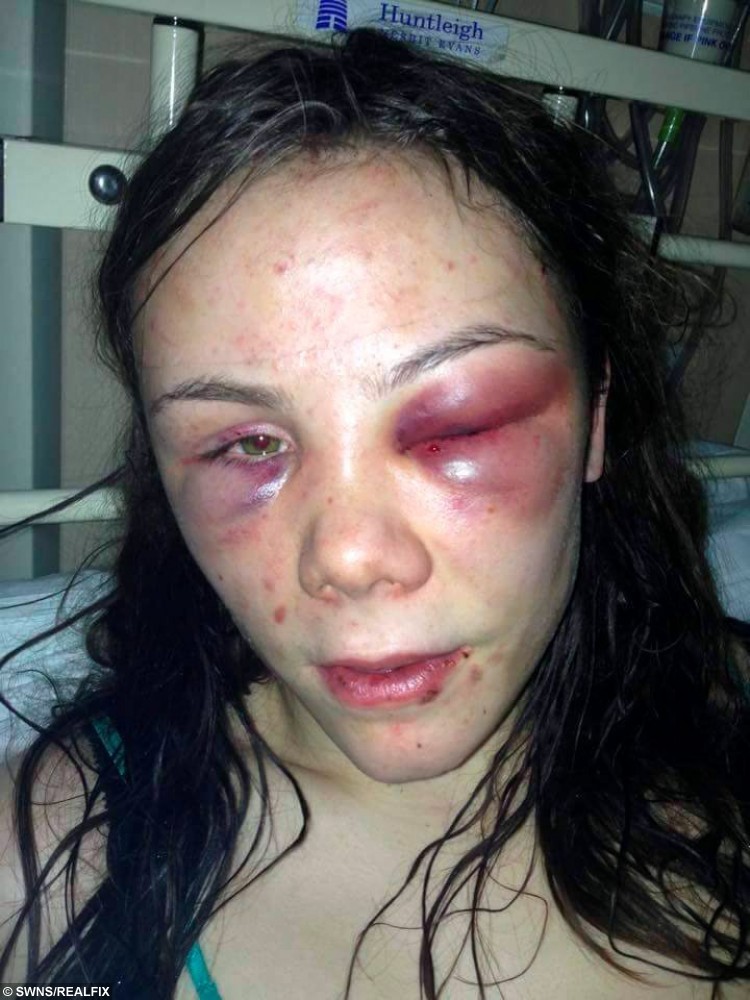 The teenager, who was 17 at the time of the attack, feared she would not make it out alive and considered leaping 50ft out of an eighth floor window to escape her evil abusers.
Jay Blades, James Canning and Amy Gaines subjected the victim to the degrading assault for more than eight-and-a-half hours and even filmed the attack at the flat in Doncaster, South Yorks.
The sadistic trio were jailed for a total of nine-and-a-half years at Sheffield Crown Court after pleading guilty to false imprisonment and wounding.
Now brave Summer has spoken of the harrowing torture she suffered at the hands of the three yobs who she thought were her friends.
Summer said: "I didn't think was going to make it out of the flat alive and thought maybe jumping out of the window would either kill me or save me – at that point I began to think it was my only way out."
Summer's night of torture began when she called at the town centre flat of her 'friend' Blades in the hope of staying overnight because she was worried it was too late to return to her parents' home.
Blades, 20, was in the flat with Canning, also 20, and 21-year-old Gaines.
Summer said she considered Gaines a friend and thought Blades was a 'nice guy' – but she sensed 'something was wrong' as soon as she entered the flat.
She had met the pair two years ago through her boyfriend, Andrew Smith, but had only met Canning twice.
She said: "My instinct was saying this isn't right, but I know them so I thought it would probably be okay."
Before long, the trio began 'plotting' and were sending messages to one another via their mobile phones.
They began telling Summer her boyfriend had been cheating on her and became 'aggressive' when she refused to believe them.
Summer said: "I started saying I wanted to go home and tried to leave, but Amy stopped me and blocked the door and said that because she was a mother she couldn't let me leave at that time in the morning.
"She started smacking me around and pushing me into the wall and started saying 'It's me being a good mother'.
"They were kicking me, punching me, slapping me and shouting things at me. At one point Jay had one of those motorbike chains and he started hitting me with it."
"I kept thinking what have I done to make them change? What have I done to make them want to hurt me that bad?
"Jay started doing martial arts moves and said it had been his birthday wish to try them out so got the others to film it.
"I wasn't allowed to sit on the sofa because they said they didn't want to catch anything from me and told me to get on all fours and act like the dog I am.
"I was so terrified, I kept thinking they're not going to let me live.
"James started weeing on me, all in my hair."
"I begged them to stop it all but they just didn't care.
"My eye had got all swollen up from where they had been punching me, and they started squirting lemon juice in it."
But the terrified teenager revealed her most terrifying moment came when she heard the three discussing how they wanted to kill her.
She said: "They were talking about killing me and then getting a van and abandoning it with my body in it in the middle of nowhere or maybe driving it into the river where no-one would ever find me."
The attack, which took place on the morning of December 22 last year, only came to an end when the group called a fourth friend over at 10.30am to 'finish the job' on the victim – only for her to call an ambulance instead.
The fourth girl and Blades then followed Summer to the hospital after they had instructed the girl to tell the police she had been attacked in the street.
But they were overheard by a hospital worker discussing deleting their videos and photos from the night.
Summer spent three days in hospital following the horror attack and suffered burst blood vessels burst in both eyes, a fractured elbow and was in a cast for 6 weeks.
She also suffered cuts and bruises on her legs, back, chest and arms.