Meet one of Scotland's only male midwives – a former pub manager who didn't realise he would have to deliver babies when he trained for the job.
Kenny Gibson, 37, works alongside his wife Arlene, 35, and helped deliver their first child, Holly, now aged seven – and comforts his patients, telling them 'I've had three kids and it didn't hurt a bit'.
The dad-of-three is the only male midwife working in the NHS in the west of Scotland, and one of just a handful delivering babies in maternity units across the country.
Kenny made the dramatic change from pub manager to midwife ten years ago when the pub he was working at went out of business and he decided he wanted a career before the age of 30.
And although his best friend's mum was a midwife, until Kenny began training, he thought all the job involved was visiting families – not being involved in the birth.
Kenny and Arlene now work in the same ward at the Royal Alexandra Hospital in Paisley, Renfrewshire, although NHS guidelines mean they don't work directly together.
As well as their oldest daughter Holly, aged seven, they are parents to James, aged six, and two-year-old Isabelle.
Kenny, from Paisley, Renfrewshire, joked: "When we are at home, she watches One Born Every Minute but I'd rather watch the football.
"If you asked my mates, they would probably say, I'm the last person on earth they would expect to be a midwife.
"It's just fun and it's interesting.
"You see the women going from calm to sore, to really sore to losing it, to having a baby and then being high again.
"I actually think the delivery part is over-rated.
"It's bringing the women through labour that I like. It's a rollercoaster.
"There were one or two wouldn't work with me. They got away with it though. But overall, everyone was really positive."
Kenny met his wife Arlene when they trained together at college in Paisley – now the University for the West of Scotland – and qualified in 2009.
Due to a shortage of midwife jobs in Scotland, they moved to New Zealand, where he delivered a set of twins and learnt that Maori women often refuse pain relief.
Kenny's most memorable delivery was helping wife Arlene birth their first child Holly, now seven, while they were living in the Gold Coast, Australia.
He said: "Arlene had a very long labour and the midwife was quite new and I had to help out.
"When she came out she wasn't breathing so it was a bit scary at the time."
When he started working as a midwife, there were only 109 men working in the role in Britain, out of 49,000 midwives.
And there were only six male midwives in Scotland, and Kenny is the only man working as a midwife for NHS Greater Glasgow and Clyde.
Kenny said: "I had been managing a pub and then it went out of business and I thought, I need to re-train.
"Medicine would have taken too long but I wanted to be established in a career by the time I was 30.
"I wasn't interested in nursing and then I looked at midwifery and actually thought, 'what's that?'
"My best mate's mother is quite a senior midwife.
"She was a community midwife so I just thought you went about visiting folk.
"I didn't realise you actually delivered babies.
"It wasn't until I researched it I realised what is involved."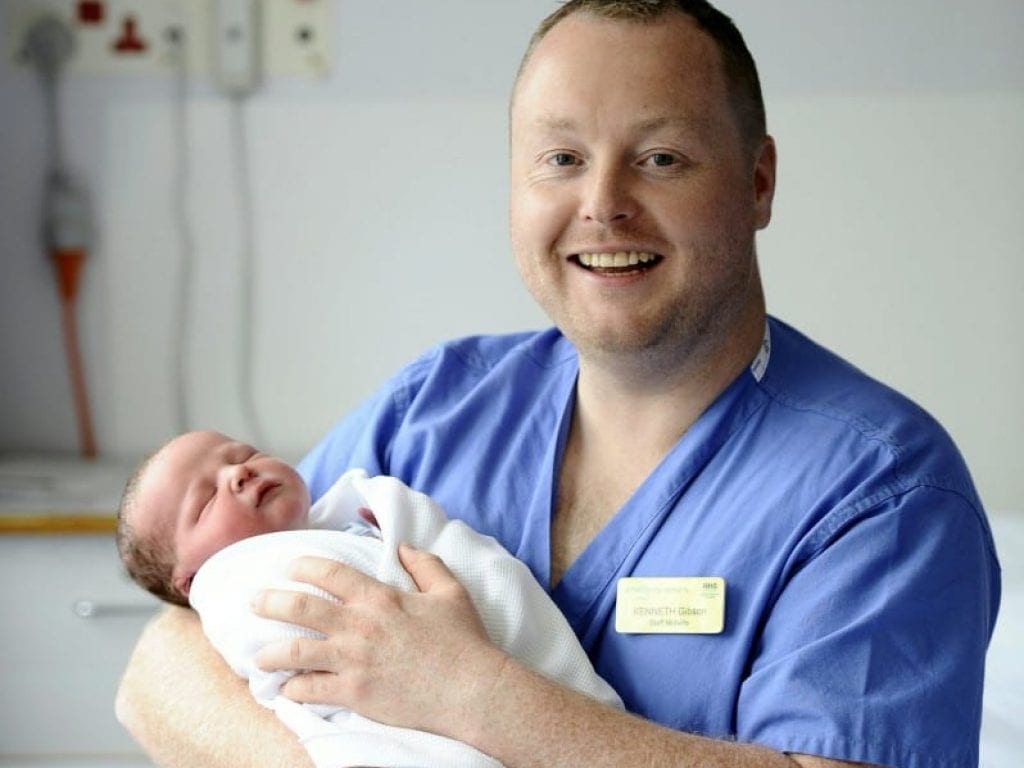 Despite the career path being female dominated, Kenny said few women refuse his help and the exceptions are for religious reasons or sometimes survivers of sexual abuse.
Kenny said: "The most important thing about being a good midwife is staying calm.
"Some women will say the pain is like a bad period cramp and obviously I don't know what that is.
"With me, it's more like you are a guide, and you are just bringing the women along.
"As long as they trust you, they have to know they can get through the pain. You have to be confident."