Tributes have been paid to a much-loved cemetery cat who consoled mourners for 20 YEARS – and has now been BURIED there.
Ginger tabby Barney spent his days walking the grounds of the burial site offering comfort to grieving loved ones during funerals and graveyard visits.
He died aged 20 on Friday evening from old age.
And one of his keepers Alan Curzon has confirmed he has now been laid to rest at the place where he spent his entire life brightening up the lives of hundreds during their darkest moments.
The popular moggy originally lived with his owners next door to the St Sampson's Cemetery in Guernsey.
But after they moved away he kept returning to his previous territory and was eventually re-homed there.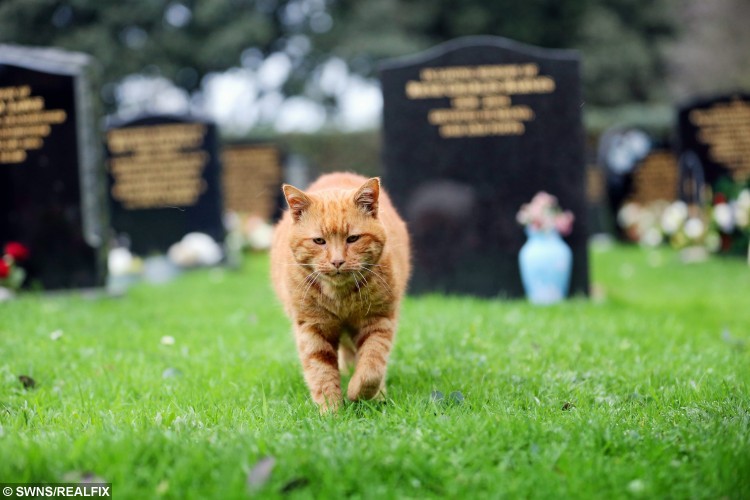 Alan, 63, the cemetery sexton who has helped look after Barney since 1996 when he was just a kitten, said everyone was devastated.
But he praised the positive impact Barney had on so many people.
He said: "When relatives and friends have suffered the awful loss of someone close to them and go to visit a cemetery they are not in best frame of mind but Barney was always there to cheer him up.
"For those who entered the cemetery with a heavy heart, he lightened up the experience for them. When people walked through the gates, he often came up to them and brushed against them.
"There was not a bad bone in his body.
"We are putting a plaque on the wall and a bench and have found a little space for him in the cemetery where he is buried as well.
"The place won't be the same without him and his death has left a gap. I have already seen a lot of people in tears and we are very upset, but he had a good life and was well looked after."
Alan said Barney was well cared for and fed every day of the year – and even had Christmas presents left for him.
He added: "He was owned by the people who lived next door but they moved and he kept making his way back to what was his territory that eventually we made him a home there and he stayed.
"We would look after him and he would provide a lot of comfort to a lot of people .
"He had his own house but would spend his days wondering around. If he heard a car coming he would make himself known and was so friendly.
"I have been here 20 years and he was just a kitten then – he was born in 1996.
"He did not have to worry about a think, but I must stress it was not just me looking after him. There were a lot of people that took him to their hearts."
The Rector of St Sampson's Church Rev Timothy Dack said he carried out a lot of funerals at the cemetery and said Barney always offered a comforting presence.
He said: "I think the presence of Barney brought a lot of comfort to so many people.
"Whenever I was taking a funeral up there families were so happy to see Barney milling around. The mourners would see him and it would bring them a lot of joy.
"I just think he gave them great comfort. I know he was well cared for by a number of people."
Many visitors to the cemetery have described Barney's support as invaluable and tributes have been flooding in for him on social media.
Writing on Facebook Debbie Ann Le Page said: "God bless you Barney, remember that lovely sunny afternoon, I laid down on the grass in the cemetery and we cuddled up together for two hours.
"I needed a friend that day and there you were my angel!! God bless you."
Sue Falla, whose daughter is buried at the cemetery, said: "I always felt my young daughter was never alone when he was there. Really going to miss you, Barney, RIP."
Autumn LeLievre described Barney as "wonderful."
She added: "He brought so much comfort to my children especially on our regular visits to the cemetery. Thanks to a special cat, sleep well and warm x."
Kelly Ogier also wrote on Facebook: "All our family loved you so very much and we will always be so grateful of the comfort you gave us at what can be a difficult place.
"You brought sunshine to us all and we will love you forever xxxx."
Pauline Goddard wrote: "My children loved going to see him when visiting their Gramps grave – a lovely cat that will be missed by many and now keeping our lost loved ones company ."
Karen Wilson added: "Such sad news.
"He came up to us after we buried my sister and he brought a smile to everyone.
RIP Barney now you will be keeping our loved ones safe on the other side."
Members of the public also backed the decision to bury Barney at his home cemetery.
Andy Baker wrote: "He should have his very own little grave there as this was his chosen place while alive. He should be laid to rest there.
Mandy Hardman added: "He belongs there."
ENDS