Britain's unluckiest couple yesterday told how they were forced to cancel their wedding when they both lost a LEG within days of each other.
Susan Mortimer and Robert Hackley, who have been together for 11 years, were in the process of planning their big day when the double dose of bad luck struck.
It began when Robert, 57, accidentally stepped on a piece a glass which turned his right leg septic.
He went into hospital for treatment in January but doctors told him he needed to have an amputation as he had suffered with infections for several years.
Just four days before the removal Susan was rushed into the same hospital and told she had to have her left leg amputated because of an ulcer that had corroded her ankle.
The couple even ended up in adjoining beds in Derriford Hospital, Plymouth, Devon.
Robert, a former security supervisor with three adult children from a previous marriage, said: "It was a really bizarre coincidence.
"We are trying not thinking about how bad it all is.
"Losing a leg was really bad but expected for me – but Sue was sitting there thinking her condition was getting better.
"But it was a big shock for both of us when she lost hers.
"With the wedding, it is the financial side of things that we are now struggling with but hopefully we will go ahead with it next year.
"It was a big shock when it was cancelled – we hadn't planned a huge amount but it was due to go ahead.
"Sue was really upset but I guess you just go ahead with these things and hope for the best."
Since the double amputations the couple, from Plymouth, say they have struggled to cop and have not left their home in the four months since leaving hospital.
Despite their problems they still hope to get married next year.
Susan, 48, added: "We were initially due to get married last year.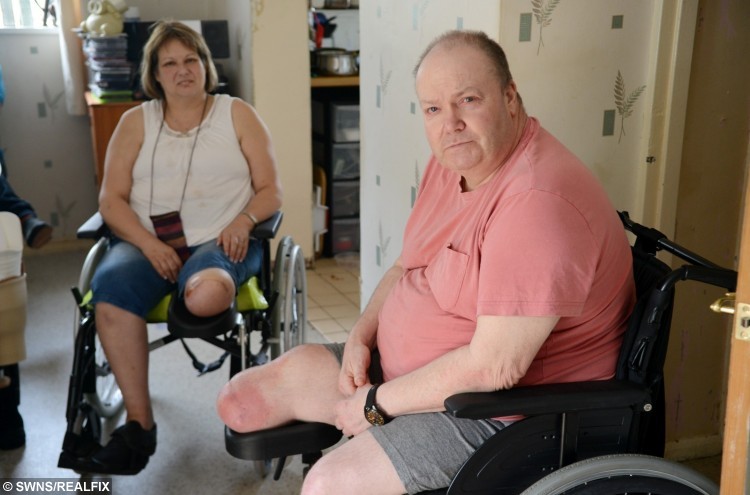 "We pulled out of it first as we just couldn't afford it. Now with everything that's happened, hopefully we will be able to next year."
The couple claim their wheelchairs don't fit through the doors of their flat and say they now struggle to reach their bathroom.
Susan, who bought the house 20 years ago, said she is now hoping the adult social care team will knock through a partitioning wall to avoid them having to move out.
She added: "It's very hard to get used to.
"I used to walk a lot, and swim, so this is a big change.
"It is getting a lot better now as I have a prosthetic leg and I have been having physiotherapy which has been brilliant.
"If somebody would help us knock down the wall between the bathroom and the toilet, we could live like normal people again."
Susan said it was strange to both be going through similar operations at the same time, but felt it really helped having the Rob's support on the ward.
She said: "I was down on one ward but Rob was depressed I was down there on my own, so after two weeks they transferred him to my ward, which was brilliant."
It's not the first time Rob has had trouble either.
In 2009, the father-of-three had to have his big toe removed on his other foot after he stepped on a syringe in Turkey while on the beach.
Then, in 2012, he had to have the next toe along taken off too, as the infection had spread to his bone.
"I haven't been the luckiest," he added.
Since their operations the couple say they have been relying on friends and family to help them with everyday tasks.