A young woman has told how choking on a hot chocolate drink led to the chance discovery of potentially-fatal blood clots.
Emma Carey, 18, was enjoying her favourite beverage with her childhood friend when an untimely joke left her coughing up a gulp full of Cadbury Fudge Highlights.
But when she was still suffering the effects of the burns hours later, she went to get checked out at hospital – only for scans to reveal the clump of clots, which could have killed her if they'd gone untreated.
The musical theatre sixth-form student said: "We were just sitting there talking about things we did when we were little.
"My friend Katherine's mum Annelise said something funny about a time when I was seven or eight and I just started laughing mid sip.
"I couldn't stop laughing and tried not to spit it out but it ran down by throat and felt like being stabbed in the chest."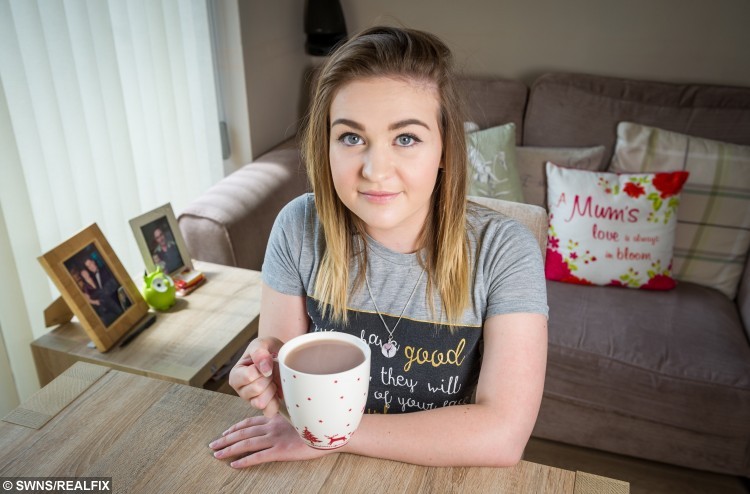 Emma was coughing up hot chocolate up to an hour after the incident, but two hours on she still had trouble breathing and had pains in her throat and chest.
She was taken to A&E at Luton and Dunstable University Hospital in Luton, Beds., from Caddington – where she lives, following the incident on April 21.
Her family feared she had scalded her throat but after staying overnight and undergoing a series of tests to check for suspected pneumonia, doctors broke the news that Emma had developed a cluster of life-threatening blood clots in her right lung.
Emma, who describes herself as "fit and healthy", was shocked when she was told about the discovery.
Worse still, she was informed that these silent but deadly blood clots could have shown no symptoms before killing her in a "sudden death" scenario.
It is believed the clotting was caused after Emma started taking the contraceptive pill just two weeks earlier.
Emma said: "It was the scariest thing that anyone could have said to me.
"I was basically told I was a ticking time bomb."
The shock did not end there, Emma was quizzed by doctors about any family history of blood clots – which there is none – and about any medication she was on.
When she told medics that she started using Rigevidon contraceptive pills two weeks ago they made the link.
Emma, who suffers with anxiety around issues of death, said: "At first it took a while to sink in, I was initially shocked I didn't think anything like this could happen to me.
"On the one hand I'm really lucky they found them so quickly, but I was only on the pills for two weeks, so it is quite scary they could develop so fast.
"I've got mixed feelings, part of me is quite scared by it but I'm very lucky."
Horrified Emma will be undergoing further tests to determine if she is prone to blood clots.
Since the clots were found she has been prescribed a six-month course of warfarin to thin the blood, however these caused her to developed an itchy, painful rash as part of a reaction to the medication a week later.
Hospital medics prescribed her with antihistamines to treat the rash.
The Arts1 School of Performance student will now have to resit the first year of her musical theatre course in Milton Keynes, Bucks., after being forced to drop out as she recovers.
Emma added: "I will always be grateful for my love of hot chocolate. If it wasn't for that, I would be a ticking time-bomb.
"I've always liked Costa hot chocolate and those with hazelnut in them but Cadburys Fudge is probably my favourite now."