'Ouch,' I thought to myself as I said goodbye to my last client of the day.
I had a stabbing pain in my eyelid and leant towards the mirror to see what it could be.
Sure enough, there above my eye was a hair splinter.
Not many people other than hair dressers get them, but they're really similar to a regular splinter, just with a small hair rather than a shard of wood or glass.
I'd experienced them before – usually most days at work from my clients – but they're easily removable with a pair of tweezers.
'Got ya!' I said to myself as I grabbed hold of the tiny hair with the tweezers.
Not thinking much of it, I tidied up my chair, swept the hair from the floor and grabbed my bag to head back to my home in Santee, California, USA, for the evening.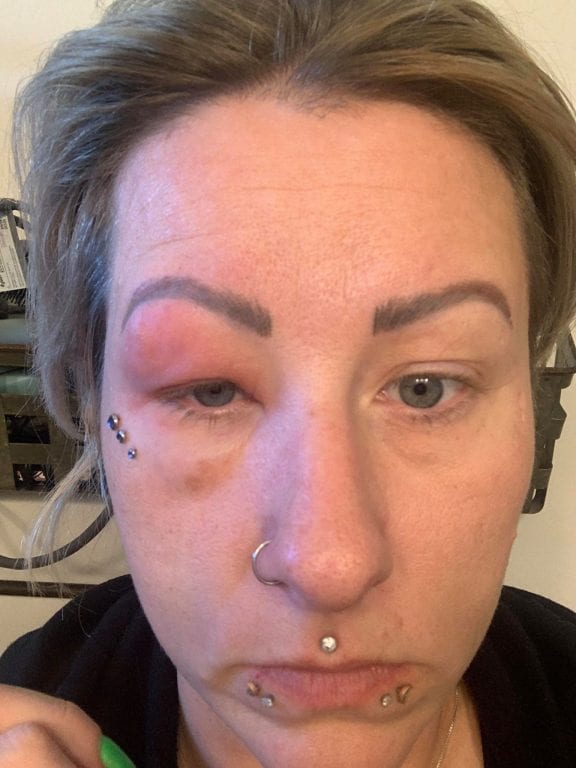 But the next day, there was a big bump where I'd removed the hair, and my eyelid was swollen.
'Yikes!' I said as I looked at myself in the mirror for the first time that morning – it wasn't a pretty sight.
This had never happened with the hair splinters I'd had in the past.
'Maybe a facial will help to reduce the swelling?' I thought.
But that didn't do the trick, and just 48 hours after removing the hair splinter, my eye had swollen up completely.
I could hardly see!
I went to the doctors where I was given antibiotics and an eye patch to wear and sent home.
But my eye was hot and tender to touch and my vision was so blurry.
'This isn't right,' I thought.
Deciding to trust my instincts, I went back to the doctors again, but they assured me everything was fine.
'You just need to give the antibiotics more time to work,' the nurse assured me with a smile. 'We're sure it's a simple sinus infection.'
Four days after I removed the splinter, it still hadn't gotten any better – in fact now I couldn't see at all!
'I need to go to A&E now,' I said worriedly to my mum, Judy Murray, 69, on the phone. 'I'm in agony.'
I took myself to Grossmont Sharp Hospital, La Mesa, California, where I was instantly given an IV with fluid and two of the strongest antibiotics.
'It looks like a staph infection,' the surgeon told me – an infection caused by bacteria called staphylococcus, that can lead to more serious infections.
'We're going to need to cut it open,' he continued. 'And if we can't control it, I'm very sorry to say that you could lose your eye.'
I couldn't believe what I was hearing.
Tears streamed down my face from underneath the eye patch.
I was terrified, anxious, and in so much pain.
Strangely, I managed to mentally prepare myself for losing my eye.
My life hadn't exactly been the easiest, and so I figured this would just be another bump in the road.
I already looked weird with a swollen eye and eye patch and thought that if I lost my eye, I would just have to accept a permanent version of that.
But this didn't make the process any easier, and I cried whenever I was alone.
One nurse in particular would wrap her arms around me every time.
'It's going to be OK,' she said. 'We're here to take care of you.'
My mum couldn't be there having just completed chemotherapy for Non Hodgkins Lymphoma, so it was nice to have the kindness and support of the nurse as a motherly figure.
I didn't want to be admitted to the hospital in the first place, as I had had traumatic experiences in the past.
I was widowed at the age of 20 when my husband, Jeremy Lee Bohlman, 21, died fighting with the United States Marines in the war in Iraq in 2004.
Shortly after he was killed in action, I began experiencing excruciating pain in my stomach and went to the military emergency room weekly for a month with a fever.
They told me my body was reacting because I was depressed and that the grief was playing tricks on me because there was nothing medically wrong with me.
I knew it wasn't my mind, and finally, a urology doctor said he thought it was a kidney stone.
He couldn't find it so asked to do exploratory surgery, and while in surgery he found a kidney stone the size of a golf ball.
During that surgery I had woken up, and I remember the pain vividly.
From that moment, I was terrified of hospitals after everything that had gone wrong – but knew it was the right place to be and that I had to grin and bear it now that I had this horrible infection.
They agreed to do the procedure at my bedside with no general anaesthetic, which helped to calm my nerves about being sedated, and I was awake for the entire time.
The surgeon numbed the area but I felt everything, which was very bizarre.
He left the incision open so the infection could drain, but the next day, I could feel pain in my neck and ear.
'I think it's getting worse,' I said worriedly to the doctor when he came to visit.
'I'm afraid I think you might be right. We're going to move you to a private room and take it from there,' he agreed.
I wasn't sure why that was necessary, but was thankful for the peace and quiet – until they told me I had an MRSA infection as soon as I'd been moved to my new bed.
'What does that mean?' I asked, tears welling in my eyes yet again.
'It's a very aggressive infection,' the nurse said. 'The doctor will be along to tell you more.'
The doctor explained that it was a severe infection – or superbug – that is much harder to treat than other infections because it's resistant to most antibiotics.
After six days in hospital, I went in for surgery again, but this time under general anaesthetic as the doctor needed to make a bigger incision.
On day eight in hospital, I was taken into surgery yet again – and this time, the doctor cleaned out as much scar tissue as possible.
'I think this has done the job,' the surgeon smiled once I'd come around.
I was finally infection free – and wouldn't need to lose my eye!
My recovery took over a month, and still four months later I have tenderness in my scar from the MRSA.
Incredibly my eye has no damage, but my eyelid does have a gnarly scar.
But that's nothing a little bit of make-up can't hide!
It's a reminder to me of how incredible my faith, courage, and strength are – and has in a way renewed my faith in our hospitals after they were able to help me.
I try not to panic when I get a hair splinter at work now, as what happened was such a freak accident – but I do get anxious every now and then when I remember everything I've been through.
I make sure to clean any cuts with antibacterial gel or wipes – and am just glad I don't have to wear an eye patch for life!