Inspirational Bailey Matthews, who has cerebral palsy and won hearts all over the country as he tackled a triathlon last year, has returned to the scene of his success to cross the finish line – SEVEN MINUTES faster.
Nine-year-old Bailey reached the end of the race at Castle Howard in York with a smile on his face, flanked by his proud dad, as he showed just how determined he is not to let his disability impact what he can achieve.
The youngster, who has continued to encourage everyone to #BemoreBailey, completed the children's triathlon, comprising 100m swim, 4km bike ride and 1.3km run, in one hour and 20 minutes.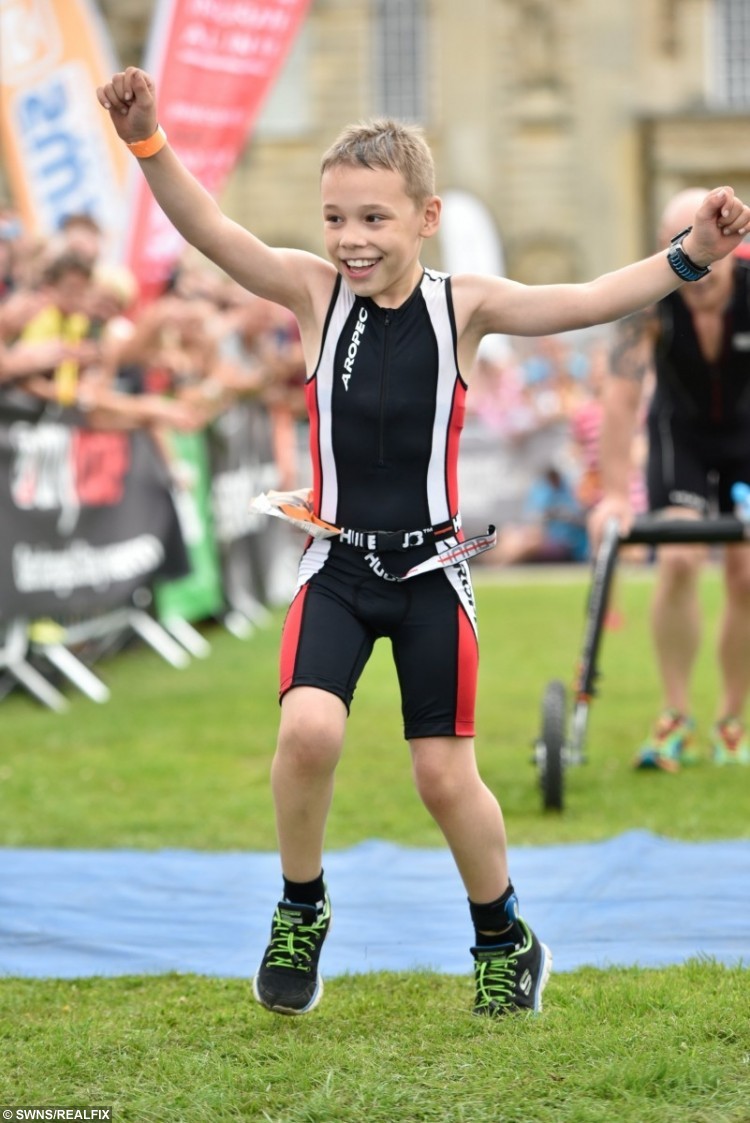 Bailey's dad, Johnathan Matthews described just how proud he was of his son's achievements.
He said: "I'm so proud of him, it's great to be back.
"He's given this 100 per cent. He never talks or brags about it, he never even mentions it, he just gets on with life and working hard to be a great triathlete.
"I don't think he fully understands just what an achievement it is.
"We have had such a warm welcome from all of the Castle Howard team and we can't wait for the next event in France."
Bailey's mum, Julie Matthews, echoed those sentiments and described just how well Bailey has done in the past year.
She said: "It's a year since Bailey completed the Castle Howard triathlon and I can't believe how much our lives have changed since then.
"It's amazing to see how many children he's inspired and we're so proud of the amount of people who's lives he has made a difference to.
"When he did his first triathlon it came off the back of a huge amount of belief, work, training and determination from a lot of people; his teaching assistant, the people at the Movement Centre at Osworstry, his family, and of course Bailey himself, have all pulled together to support his amazing journey as a triathlete."
Bailey, from Doncaster, South Yorks., received global recognition at Castle Howard last year when, with the finish line in sight, he abandoned his walking aid and determinedly made it to the end.
Despite a few tumbles, the young lad refused to give up and reached that elusive end all by himself.
This year he achieved the same finish – pushing away his walking aid to make sure he made it over the line all by himself.
Since last year's achievements, Bailey has been awarded a Pride of Britain Award and the BBC Helen Rollason Sports Personality of the Year Award.
He has also met lots of his heroes, including David Beckham, Simon Cowell and many more.
Speaking about his inspirational son, Mr Matthews said: "Bailey sees himself to be no different to others and just wants to give everything ago.
"He did exactly that at Castle Howard Triathlon and has come back to do more this year.
"The beauty of triathlon and the Castle Triathlon Series events are that they give access to all and that's why the sport and these events are top of our calendar this year.
"All levels take part and no one is singled out. Bailey couldn't wait to take part."
Now Bailey is calling on others to take part in triathlons of their own throughout 2016.
Brian Adcock, Race Director for the Castle Triathlon Series described how pleased Castle Howard was to welcome Bailey back to the scene of his success.
He said: "We were delighted to welcome Bailey to our entire Castle Triathlon Series this year and were so excited to see that now-famous smile and example setting determination again.
"Bailey is an inspirational figure for many and a great example that sport is for everyone."