A three-year-old boy with a rare genetic disorder is one of Britain's tallest toddlers and stands – an incredible FOUR FOOT TALL.
James Whatley was born with Sotos syndrome, a disorder that causes rapid growth during the early years of life, and is twice the size of other children his age.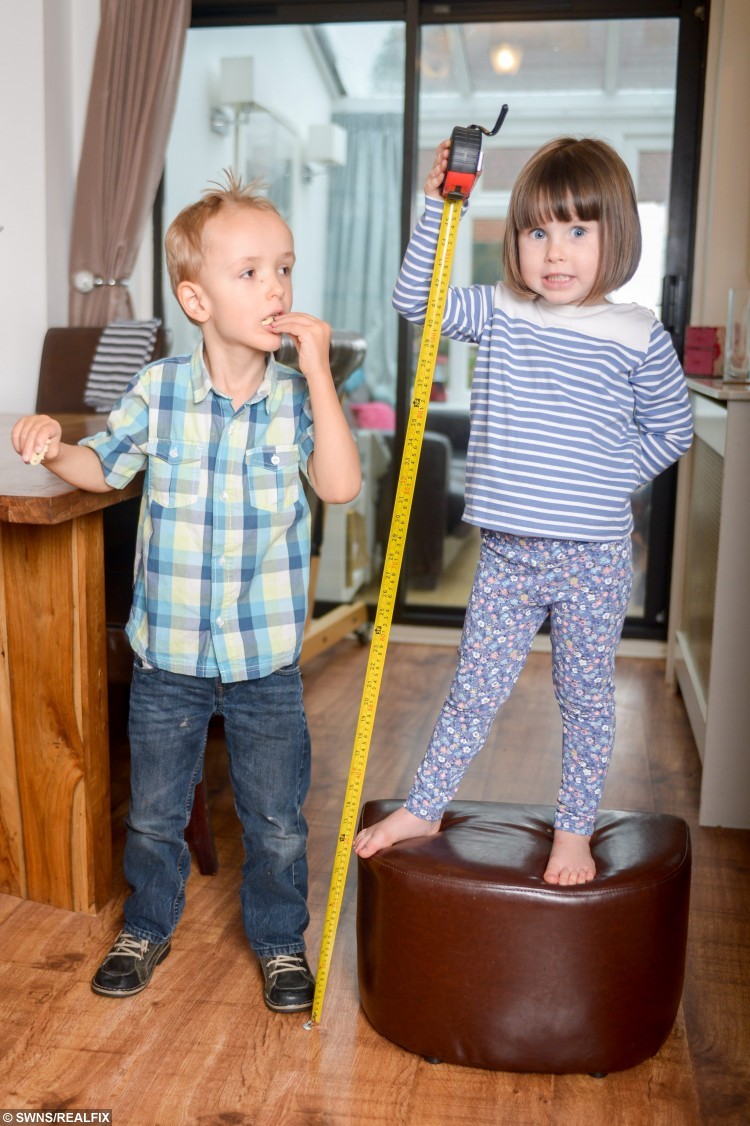 Lanky James, who is the same height as the average six-year-old, is one of around 20,000 children born with Sotos every year.
His mum Michelle, from Redhill, Surrey, is trying to raise awareness for 'Jeans for Genes Day'.
Michelle, who is 5ft11 and husband Scott, a 6ft4 builder, always expected their third born child to be tall.
But James was delivered by C-section weighing a massive 10lbs 6oz and nearly 2ft tall – the size of a six-month-old.
He is now already taller than five-year-old sister Emma and is catching up with seven-year-old brother Spencer.
Bank relationship manager Michelle, 34, said: "I'm tall. My husband's tall. He was always going to be tall but he's about my daughter's height and she's five."
It is believed James will stop growing around the age of puberty but it is predicted he could reach a height of 6′ 7".
Michelle said: "He didn't look like your normal newborn baby. He had to go into special care because he was so big.
"We were all distraught. We didn't know what was wrong with him. We were all in hysterics and in floods of tears.
"When I got round to see him I saw this massive baby like next to these ones in incubators because they had been born early weight 800 grams and he was filling out his incubator.
"I thought 'oh my god what's wrong with him'."
The family had an agonising two-week wait for him to get out of hospital after his birth on December 4, 2011, but had him home just in time for Christmas.
The disorder – caused by a mutation in the NSD1 gene – has also given him severe learning difficulties and poor mobility as his muscles struggle to keep up with his bone growth.
After his diagnoses nine months later, he started speech and language therapy to help him express himself and now attends Brooklands School, a state special school in nearby Reigate.
Michelle said: "He's done brilliantly since he's been there, he has really developed a lot.
"A lot of people feel nervous at the early stages, it's awful it's all doom and gloom. But I look at him and he's so happy and he just gets on with it."
"As long as they keep progressing and you help them progress you can do it.
"Just get on with it. Everyone has their own issues and Sotos is just another one we deal with but you just do it."
Now the family are doing everything they can to help him catch up with his peers.
The mum-of-three called for further genetic research so greater predictions about babies' conditions can be made, allowing their quality of life to be improved.
She said: "So if you have a child you know what the future holds for it. You could know what to look out for and what decisions to take.
"Some people will stare at James because they are not used to his sort of condition. We hope this helps to raise awareness of children with additional needs."