A desperate mum may have her baby boy's body EXHUMED because thieves keep stealing toys from his grave.
Heartbroken Tracey Bolton, 43, has been leaving teddy bears and toys at tragic Jamie Godrich's grave, who died in 2009 when he was just six weeks old.
Cruel thieves have targeted the grave three times in the past month, stealing Lego and action figures from Nottingham Road Cemetery in Chaddesden, Derbys.
The heartless yobs have caused further misery by throwing toys across the cemetery and Tracey feels she is being deliberately targeted.
She is now considering whether she should move Jamie to another cemetery but says this would cost £1,800.
The full-time mum-of-three from Chaddesden, says: "It's got to the stage now where I want to move him. It's outrageous.
"It feels like somebody is deliberately targeting me and I don't know why. What did Jamie ever do to anybody to deserve this?
"As a family we shouldn't have to put up with this and that's why I've looked into moving him.
"I bring the toys because it's a huge comfort to know that he is with them."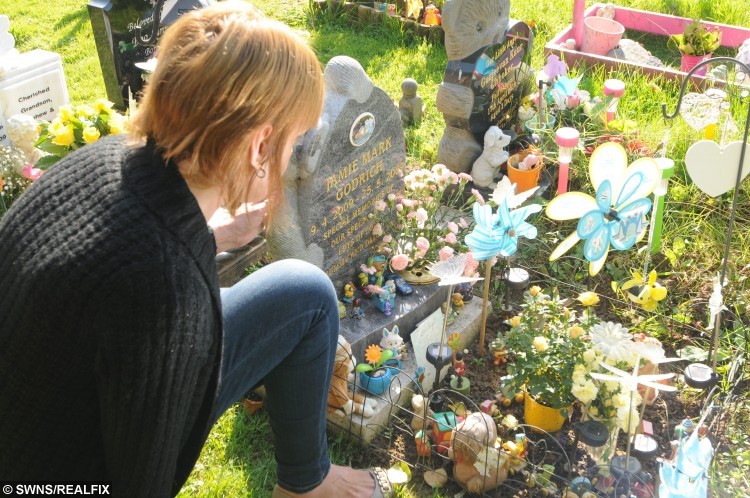 "I never got the chance to see him play with them so that's why I leave them.
"He would be at an age now where he would love Lego.
"It's a very small comfort I get in knowing they are there. It's not causing anybody any harm, so why do they need to be taken?
"It's left me so upset because that's where my son is buried.
"They are taking from a child who was only alive for a matter of weeks. They are sick and twisted.
"When I've been and the toys have gone I feel sick. Other times I've been and they are all over the cemetery."
Jamie was born with complications which doctors were never able to explain the cause of and spent the whole of his short life hooked up to support machines.
His mum was only able to hold him once before she made the decision to take him off life support after it became clear there was no hope of any improvement.
She added: "Usually, I'm very calm and collected but this is so upsetting. I simply can't get my head around the fact that somebody would do this. It's a baby's grave.
"As a parent, or any relative, you should feel your loved one will be left in peace when they are buried."
"Nobody should have to accept this. I'm quite happy to get him moved. At least then he will be at peace.
"I've grieved a lot since his death and I still miss him a great deal.
"I've got on with my life but these people are bringing back the pain and suffering I went through."
Derby City Council, which owns the site, said it "deeply regrets the anguish being caused" by the incidents.
City councillor Baggy Shanker (Lab.), cabinet member for regulatory services, which is responsible for cemeteries, said: "We have been supporting this family for some time now and are working with ward councillors.
"The police have taken all reasonable steps to try to address the repeated and thoughtless acts of vandalism."
A spokesman for Derbyshire Police said: "We are aware of the incidents and our neighbourhood team patrols the cemetery."